Every year in September, Pack 478 helps clean up Sligo Creek by taking part in the Friends of Sligo Creek Fall "Sweep the Creek" event.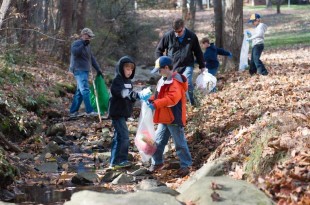 Scouts participate in either the Saturday or Sunday session, or both! A pack leader will be present both days to take attendance, then the scouts will follow the direction of a Friends of Sligo Creek volunteer who will be on site with trash bags and gloves. Sturdy shoes and bug spray are recommended. 
On Saturday, Pack 478 Scouts usually works at clean up Area 8, "Whitehall Bridge." The check in table located at Whitehall Bridge, the middle bridge over Sligo Creek, just north of the Dennis Ave. Recreation Center. From the parkway at intersection of Sligo Creek Parkway and Dennis Ave., drive north past the Dennis Recreation Center to a small parking turnout along the parkway that will be readily visible.
On Sunday, Pack 478 Scouts usually work at clean up Area 9, "North of University." The check in table located at the back end of the parking lot of the Kemp Mill Shopping Center at the intersection of Arcola Ave. and Lamberton Dr. It is between Shalom Kosher Mart and the foot path.