Into the Wild Wild West
2019 Tuckahoe Cub and Webelos Camp Promotion Video from New Birth of Freedom Council on Vimeo.
Just imagine … the year is 1849, and America is wild with Gold Rush Fever! The discovery of a few gold flakes at Sutter's Mill has sent thousands of adventurers streaming westward, hoping to find their fortune. Now you can join the excitement by rushing to Camp Tuckahoe this summer!
You'll be greeted upon your arrival and quickly incorporated into the life of our frontier boomtown. Scouts will meet the many characters; cowboys, blacksmiths, miners, and more who will work with them throughout the week.
But … you'll soon discover that all's not well in our little town, for a gang of outlaws has been threatening to take charge! Perhaps the arrival of a new sheriff – and the help of his many Scout deputies – will bring peace and prosperity back to Tuckahoe!
The skills your Scouts will learn along the way, and the memories they'll make, will guarantee this to be one summer camp you'd rather not miss! So join in the fun! We encourage you to work with your Scouts to prepare theme-related costumes to wear throughout the week.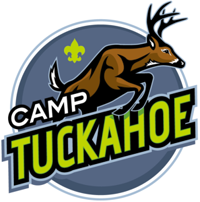 What Will They Do?
Archery
BB Shooting
Boating and Fishing
Handicraft
Nature
Science Discovery
Scoutcraft
Swimming
Camp-wide Events & Games
A Cub Scout's World
Additional Programs
Cub Work Overnight Excursion - While your campsite will serve as "home base" during your stay at Tuckahoe, every pack can schedule an overnight excursion to sleep in one of our Cub World theme areas.  Reservations will be honored in the order they are received until all spaces are full, so don't wait until the last minute to stake your claim!  Please indicate your preference when you register for camp, and expect to be informed of your assignment on the evening of your arrival.The Fort and Castle, perennial favorites, each accommodate 40 campers.  The Teepee Village has space for 36 campers, while the Pirate Ship can accommodate 20.  Please note that, while not quite as weatherproof as our other options, in fair weather the teepees and ship can provide overnight experiences that are impossible to beat!Participants in this program will transport their own gear from the campsite, so we suggest limiting your overnight gear to what you can comfortably carry (a sleeping bag and pillow would suit most campers).  You should also plan to awaken early enough to return to your campsite, clean up, and still make it to our morning flag raising ceremony on time.
Family Night Barbecue - What better way to conclude your stay at Tuckahoe than to host your family and friends for a little taste of the camping experience? Guests may arrive between 5:00 pm and 6:00 pm on the final day of each session and, for a small charge, join us for dinner. Guests may even plan to stay for the closing campfire show!
Who Can Go?
Tuckahoe welcomes all Cub Scouts, Webelos, and their Adult Partners!
Webelos Camp is for those entering fourth or fifth Grade.